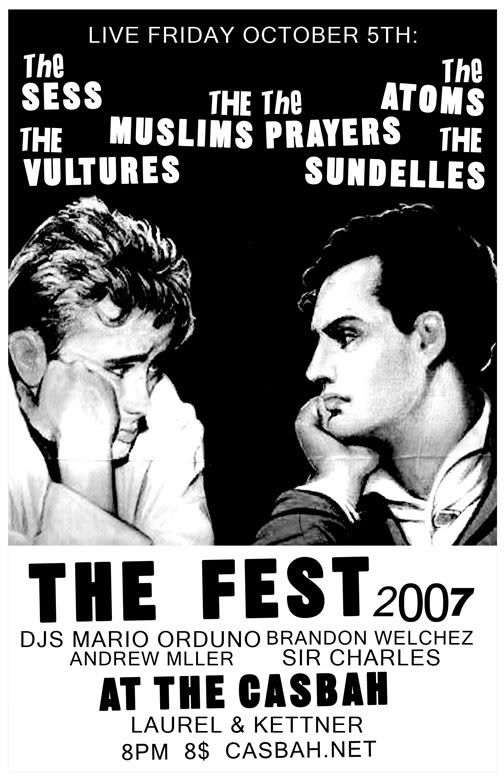 Friday October 5th @ The Casbah
"The Fest"
*************************
Load In: 8pm (Sharp)
- I NEED A BAND OR TWO TO VOLUNTEER TO BE ON TIME AND PROVIDE (1) BASS AMPAND (1) KICK DRUM & HARDWARE, YOU KNOW WHAT I MEAN LIKE SO THE OTHER DRUMMERS CAN HOP ON WITH SOME PERSONALS AND KICK ASS.- Bands please bring whatever else you will need (i.e. Amps, Instruments, Keyboard Amps, Cymbals, Snare)
Door Time: 9pm
Door Fee: 8$
Set Times:
- Five songs from each band. We have six bands and I want everyone to get some shine time but keep the change overs small. This is so that we don't have to throw someone on right at 9pm. We can wait awhile. Drag our feet alittle.
Band Order:
The:
Sundelles
Sess
Vultures
Atoms
Muslims
Prayers
- Problems? Please talk to me. Please tell all your fans about this. Tell them that it is a "fest." So to come early because it is a fest, that's six bands, some has to go on first, that's just the way it is, somethings will never change. Use the word "fest" as much as possible and they will listen. They will come around.
Posters:
- Digital Posters will be dished out tomorrow.
- Print Posters will be available for bands at OFF THE RECORD to pick up anytime, or if you see me (Charles) I will have some on me. Everyone please take some and fuck shit up, and post them places.
Djs:
- Mario Orduno, Brandon Welchez, Sir Charles, Andrew Miller